Minimally Invasive Surgery (MIS)
Minimally Invasive Surgery (MIS)
What Is Minimally Invasive Foot and Ankle Surgery?
Minimally invasive surgery (MIS) is a technique used by our surgeons to correct specific foot conditions with very small incisions. This technique has gained attention among both surgeons and patients due to a smaller incision and scar (about 75% smaller), faster recovery time and a reduced use of post-operative pain medication.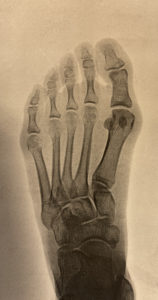 Common foot and ankle conditions that can be treated using minimally invasive surgical techniques include bunions, hammertoes, big toe arthritis, metatarsalgia, flat foot reconstruction and achilles tendinopathy.
Too often patients present to our office stating that they were afraid to come to the doctors office because they were concerned that they may need surgery.  Many patients state that they are fearful of the painful scars, being immobilized for months, and how surgery will impact their careers, families and the activities they enjoy.   We often hear of rumors about debilitating procedures from years ago.  The latest innovations in surgical instrumentation allow our doctors to remove the deformity without completely opening the soft tissues.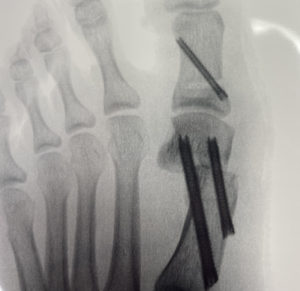 Advancements in operative techniques, and fixation methods have made these surgical procedures very successful and effective.
There are many different surgical techniques used to correct foot and ankle pathology and deciding which procedure is best for you can be confusing.  Our surgeons will take the time to educate you on not only your specific foot condition but the best options for you to obtain the results you want.
Our surgeons who are trained and perform this advanced technique:
*Please do not submit any Protected Health Information (PHI).