Tyler Miranda, DPM, DABPM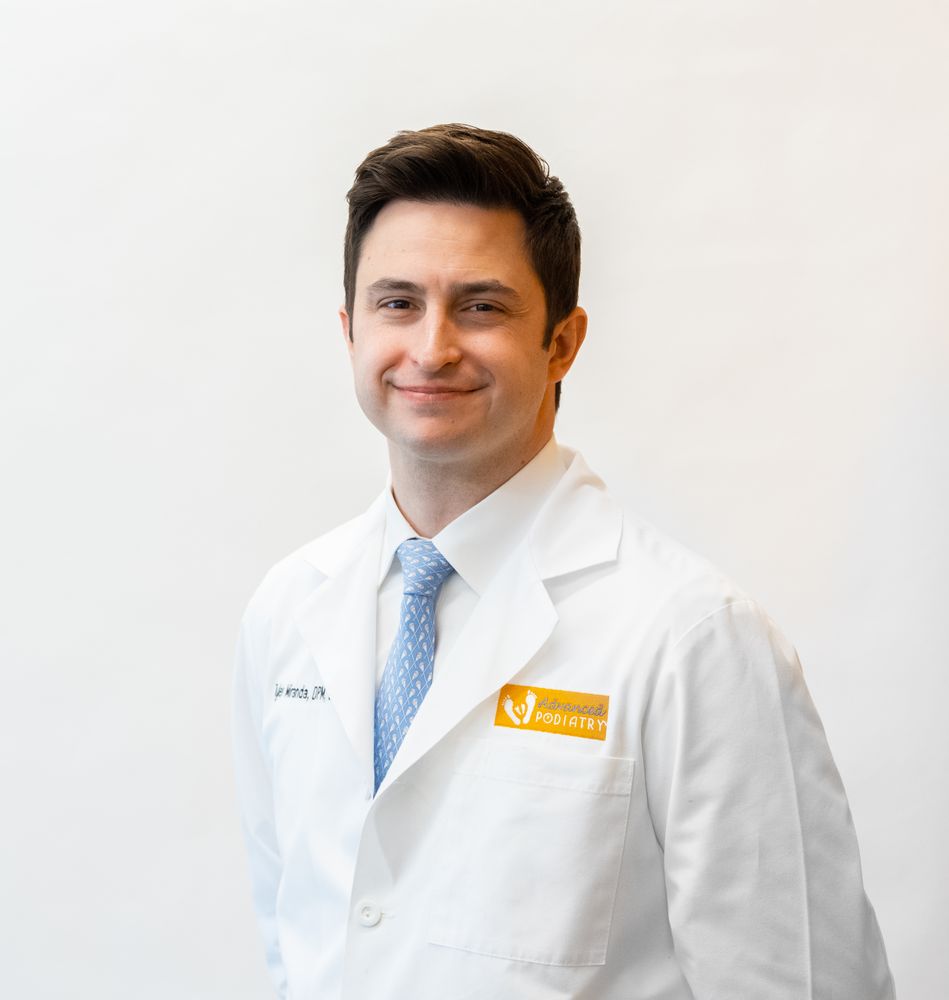 B.S. in Biology Binghamton University
New York College of Podiatric Medicine
 North Queens Surgery Center
Kingsbrook Jewish Medical Center (KJMC) in Brooklyn, New York – Chief Resident 
Diplomate American Board of Podiatric Surgery
Dr. Miranda is a caring and committed podiatrist at Advanced Podiatry of Manhasset who goes above and beyond to put his patients at ease.
The desire to help others is what put Dr. Miranda on the path to a career in podiatry. As such, he takes great satisfaction in empowering his patients by educating them on how to manage their conditions so that they can achieve optimum health.
In 2008, Dr. Miranda received a bachelor's degree in Biology from Binghamton University. Following graduation, he went on to pursue his medical training at Manhattan's New York College of Podiatric Medicine (NYCPM), during which time he served as a tutor in lower extremity anatomy and also participated in a class education committee on the same subject.
After earning his Doctor of Podiatric Medicine degree from NYCPM in 2012, Dr. Miranda started a three-year podiatric medicine and surgery residency at Kingsbrook Jewish Medical Center (KJMC) in Brooklyn, New York, which encompassed comprehensive training in both forefoot and rearfoot procedures. As a result of his outstanding performance at Kingsbrook, Dr. Miranda was selected to serve as chief resident for a one-year term beginning in 2014. This same year, he worked on implementing a new patient education program.
While becoming board certified by the American Board of Podiatric Medicine Dr. Miranda worked in Brooklyn treating the entire spectrum of foot pathology. In 2016 he was brought on to be the Associate Program Director for the Podiatric Medicine and Surgery Residency At Kingsbrook Jewish Medical Center.
He joined Advanced Podiatry in the summer of 2019 where he brought his commitment to patient care and patient education. Dr. Miranda works diligently with every patient to ensure they have the information needed to make educated decisions for their foot and overall health. Dr. Miranda treats all types of foot ailments and has extensive experience with diabetic wound care and limb salvage.
In his free time, Dr. Miranda loves spending time with his wife Elizabeth and his daughter Emily. He enjoys playing basketball, the outdoors, movies, and music.