Foot Doctors Serving Manhasset, Huntington, Mineola, Maspeth, Woodbury, Coram, & Williston Park.
It is a great pleasure to be one of the top-rated Podiatry groups on Long Island. We have 20 Foot Specialists in our group with over 100 years of combined experience. Let our great Long Island Podiatrists take care of any of your foot problems. We treat Bunions, Hammertoes, Heel Pain, Plantar Fasciitis, Corns, Calluses, Ingrown toenails, Fungal Toenails, sports injuries, flat feet, high arched feet, Neuromas, diabetic concerns, gout, children's foot deformities, warts, in-toe gait, out-toe gait, pigeon toes and much more.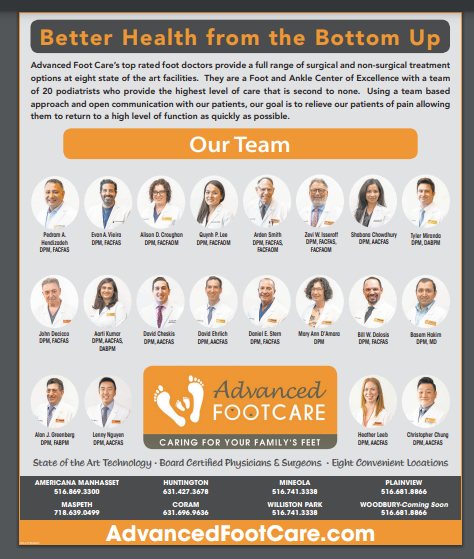 Hospital and Medical Facility Affiliations
With privileges at St. Francis Hospital, NorthShore LIJ, Huntington Hospital, Northwell Health, Day-op Surgery Center, I-park Surgicenter, Hillside Surgery Center, and soon the Melville Surgery Center our doctors offer many locations to satisfy your surgical needs.
In addition to routine podiatry and surgery, our board-certified doctors offer the latest in treatment modalities including Digital X-rays, MicroVas, diagnostic ultrasounds, nerve testing, and PinPointe™ FootLaser™ for the noninvasive treatment of fungal nails.
BOARD CERTIFIED IN FOOT SURGERY BY THE AMERICAN BOARD OF PODIATRIC SURGERY
ASSOCIATE OF THE AMERICAN COLLEGE OF FOOT AND ANKLE SURGEONS