We're experts in neuroma and nerve pain treatment. 
Advanced Foot Care specializes in treating nerve pain in the feet, including neuromas.
Our podiatrists are well versed in diagnosing and treating neuromas and nerve pain. We have surgeons who are experts in treating and managing these conditions. 
Injection therapy, radiofrequency nerve ablation and traditional surgery are all options and our team can help you decide what is best for you. 
Neuromas and Nerve Pain
A neuroma is a painful condition that can cause tingling, numbness, and even a burning sensation in your toes and the ball of your foot. Sometimes referred to as a "pinched nerve" neuroma can affect your daily mobility. 
Solving your foot pain woes
Feeling constant, throbbing, and tingling nerve pain in your feet? You might have a neuroma! The good news is that it can be treated with the right care – we'll help you find out what's going on and give you expert advice on how to deal with it.
Pain or tingling between the toes

Tingling and numbness in the ball of the foot

Swelling between toes
Feeling the symptoms? Call Advanced Foot Care now!
If you're experiencing any of these symptoms, then it's time you call us for an appointment: numbness or tingling in the foot, burning sensation in the toes, loss of balance or coordination. These are all signs that something is wrong!
At Advanced Foot Care we have a range of treatments and solutions available to address your foot health needs. And we offer free consultations so you can know what's best for you.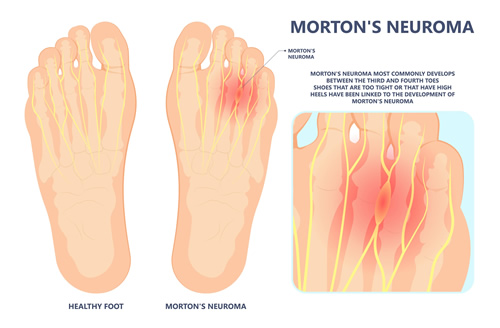 *Please do not submit any Protected Health Information (PHI).