Foot Doctors Serving Williamsburg, NY
Foot Doctors Serving Williamsburg, NY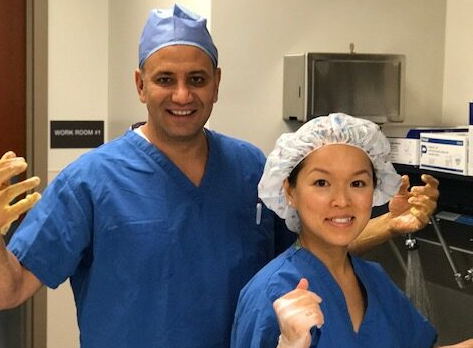 Discover Expert Podiatry Care in Queens, NY for Williamsburg Residents
Welcome to our trusted podiatry practice in the heart of Queens, New York! At Advanced Footcare, we take pride in offering expert foot and ankle care that's just a stone's throw away from your doorstep in Williamsburg, South Williamsburg, and East Williamsburg. Our mission is to provide top-quality podiatric services tailored to your unique needs, ensuring that your feet remain healthy, pain-free, and ready to take you wherever life leads. Explore our world-class podiatry care right here in Queens!
At Advanced Footcare, we are your dedicated podiatry team, committed to serving the vibrant communities of Williamsburg, South Williamsburg, and East Williamsburg in Queens, New York. Our practice is led by highly experienced and board-certified podiatrists with a passion for improving the foot and ankle health of our patients.
With a firm belief in the power of personalized care, our goal is to provide you with the best possible podiatric services in a welcoming and comfortable environment. We understand that every individual's feet are unique, and so are their needs. That's why we take the time to listen to your concerns, assess your condition thoroughly, and craft tailored treatment plans designed to address your specific goals.
We are proud to call Queens home and are conveniently located to serve the residents of Williamsburg, South Williamsburg, and East Williamsburg. Your trust in us is our greatest honor, and we look forward to helping you put your best foot forward on the path to healthier, happier feet. Discover the difference with expert care at Advanced Footcare today!
Our Local Footcare Services
Whether you're dealing with discomfort, injury, or a chronic condition, our team of skilled podiatrists is here to help. Our services include:
Heel Pain & Spurs

Diabetic Foot Care

Bunions and Hammertoes

Fractures and Sprains

Orthotics 

Neuroma & Nerve Pain

Sport Injuries

Ingrown Nails, Corns & Calluses

And more.
Don't let foot or ankle issues hold you back any longer. Take that important step towards healthier, pain-free feet today by scheduling an appointment with us on our website, via Zocdoc, or by phone at (718) 639-0499. Your feet deserve the best, and at Advanced Footcare, we're here to make that happen.
Among the services we provide to the Williamsburg community are the following:
It is our pleasure to serve our patients as one of Williamsburg's top-rated podiatry offices. Whatever your foot needs may be, you can always count on our exceptional foot care team to take care of them. Bunions, hammertoes, heel pain, plantar fasciitis, corns, calluses, ingrown toenails, fungal toenails, sports injuries, flat feet, high arched feet, neuromas, diabetic issues, gout, children's foot deformities, warts, in-toe gait, out-toe gait, pigeon toes, and many others are among the conditions we treat.
*Please do not submit any Protected Health Information (PHI).