Foot Doctors Serving Woodbury, NY
Foot Doctors Serving Woodbury, NY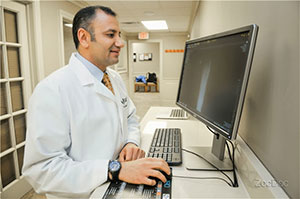 Welcome to Advanced Footcare, your community-centric podiatry hub located in Manhasset, Mineola, and Woodbury, NY. Our esteemed team of board-certified podiatrists is here to cater to all your foot and ankle healthcare needs, right in the heart of Woodbury. We believe in fostering a caring environment where you're more than just a patient – you're family.
So why should Woodbury residents like you choose Advanced Footcare? 
At Advanced Footcare, we provide a wide array of specialized services, ranging from diabetic foot care and sports medicine to pediatric foot care and custom orthotics. Our highly skilled team utilizes their extensive knowledge and years of experience to effectively diagnose and treat any foot and ankle issues you may have. Our Woodbury location features newly renovated facilities complete with the latest in podiatry technology. Our on-premises X-Ray and electronic impressions for orthotics provide accurate diagnostics and personalized treatment plans. 
From routine checkups to advanced surgical procedures, we are equipped to handle all your podiatry needs. 
At Advanced Footcare, we believe everyone deserves to step forward without pain or discomfort. We listen, we understand, and most importantly, we deliver targeted solutions tailored to your specific needs. If you're in Woodbury or nearby areas, step into our clinic and step out with improved foot health. Your journey towards better foot care starts here!
Among the services we provide to the Woodbury community are the following:
It is our pleasure to serve our patients as one of Woodbury's top-rated podiatry offices. Whatever your foot needs may be, you can always count on our exceptional foot care team to take care of them. Bunions, hammertoes, heel pain, plantar fasciitis, corns, calluses, ingrown toenails, fungal toenails, sports injuries, flat feet, high arched feet, neuromas, diabetic issues, gout, children's foot deformities, warts, in-toe gait, out-toe gait, pigeon toes, and many others are among the conditions we treat.
*Please do not submit any Protected Health Information (PHI).